Having fresh strawberry jam in my fridge has made me crave homemade rolls to spread it on.
So, here we go.
I use a Bosch mixer.  I love it.  If  you're ever shopping for a top notch machine for bread making, I highly recommend it.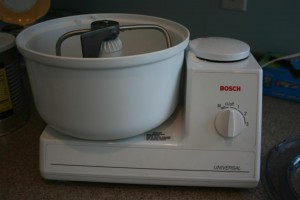 If you use a KitchenAid, be aware that they can usually only handle half a batch, so you'll want to cut this recipe in half to be safe.
Start by adding 5 cups warm water.  (I get mine pretty hot.)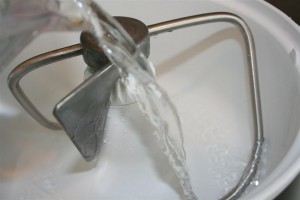 Next, add 1 cup vegetable oil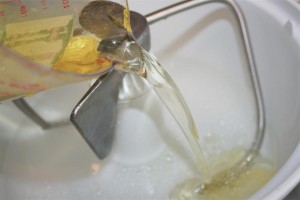 and four eggs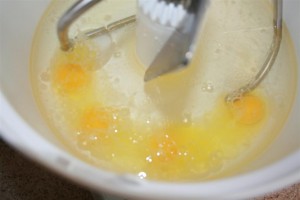 Then I turn on the mixer and blend it for a minute.
Then add 2 cups flour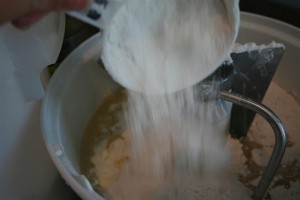 1 cup powdered milk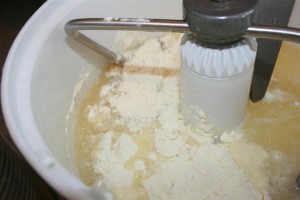 1/2 cup sugar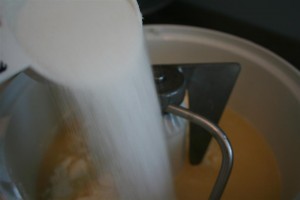 and 2 tablespoons salt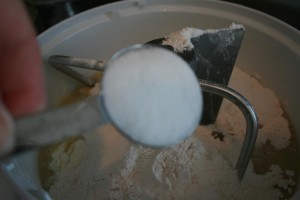 Turn the mixer to low speed, and let the ingredients combine.
The consistency should be very watery.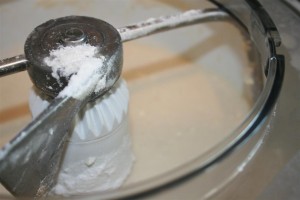 Now add 4 more cups flour and 4 tablespoons SAF-Instant yeast.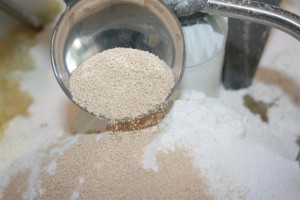 This is the kind of yeast you want to use: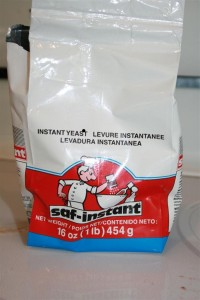 This is the only kind of yeast I use; you couldn't pay me to use anything else!
Notice that you're just adding the yeast along with the flour, as if it was no big deal?
No proofing, etc.  This should be your first HUGE hint that you've just discovered something amazing.
For a short lesson in why YOU shouldn't use anything else, either, see my post on yeast:
http://hopefulhomemaker.com/wp/?p=223
Now turn on the mixer again.  If you're using a Bosch, you should be able to just keep it on low speed.
Add more flour, between 4 and 6 more cups, one cup at a time (this makes between 10 and 12 cups total), and watch carefully.
When the dough begins to pull away from the edges of the bowl, you've got enough.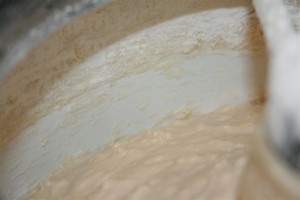 When it reaches this point, put the lid on and let it knead for 5-7 minutes.
After it has mixed, remove the dough hook.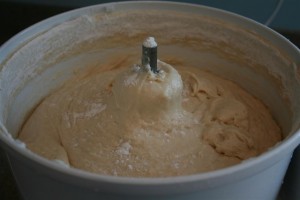 Replace the lid, and let the dough rise in the mixer for 10-15 minutes.
Prepare a large cutting board or part of your kitchen counter to use as a work surface to roll out the dough.  Pray it generously with non-stick spray.
Then dump out your dough.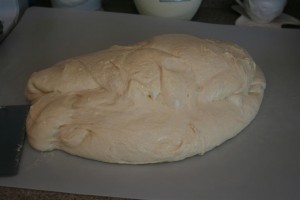 Knead it by hand for 1 or 2 minutes, and then divide it into 4 large pieces.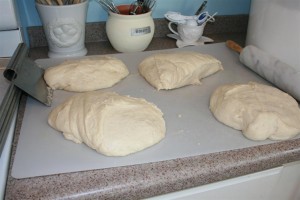 One at a time, roll out the dough into a large rectangle.
You may need to spray the surface again with Pam, or if you like your rolls with a
little layer of flour on them, sprinkle a bit of flour so the dough won't stick.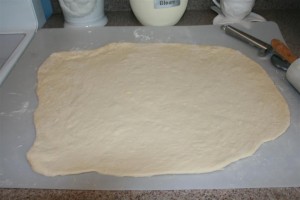 I like to roll my rolls into a crescent shape, as it is so quick and simple.
I take a pizza cutter, cut the dough in half lengthwise, and then cut each half into triangles.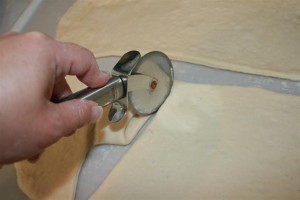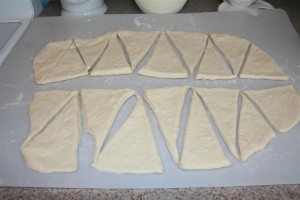 Next, roll the triangles up starting with the wide end.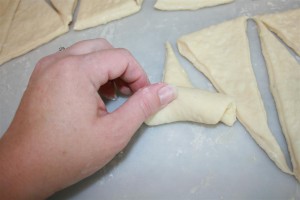 Place rolls on a baking sheet lined with parchment paper.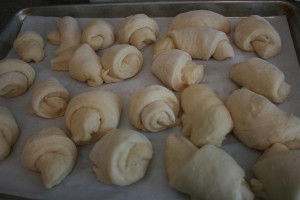 Repeat this process with the remaining three balls of dough.
Let rise for 10 minutes (no, not an hour and not until doubled in size)
and then bake in a preheated 375 degree oven for 8-10 minutes or until beginning to turn golden brown.
Remove from oven and baste with melted butter (or if you're lazy like me, just get a stick of butter and gently rub it over the top of every roll).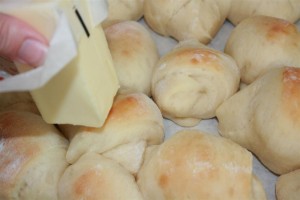 I also like to sprinkle a little sea salt over the tops of the rolls after I butter them.
Wow!  I wish you could smell these.
You would have to make them right away because you'd be so hungry.
There aren't many things in life yummier than warm, fresh out of the oven, homemade rolls.
Remember the strawberry jam?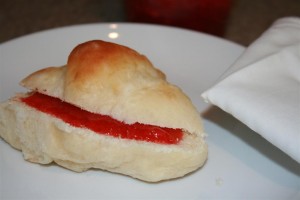 It really doesn't get much better than this.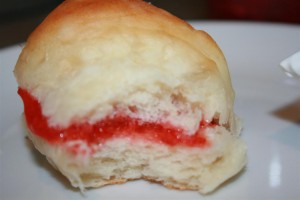 Yum.  I'd better finish this so I can go eat more.  You'll never be able to buy rolls again with a clear conscience.  They're fast, delicious, and everyone will be impressed!
Hopeful Homemaker's Homemade Rolls
5 cups very warm water
1 cup vegetable oil
4 large eggs
1 cup powdered milk
1/2 cup sugar
2 Tablespoons salt
4 Tablespoons SAF-Instant yeast
10-12 cups bread flour
Preheat oven to 375.
In a mixer, combine water, oil and eggs.
Add 2 cups of the flour, the powdered milk, sugar and salt.
Mix together.
Add 4 more cups flour and the 4 Tb. yeast
Mix again.
Slowly add remaining flour, 1 cup at a time, until dough begins to pull away from the bowl.
Cover and let knead for 5-7 minutes.
Turn off mixer, remove dough hook, replace lid, and let rise for 10-15 minutes.
Spray work surface with non-stick spray and dump dough onto surface.
Knead by hand a few times, then cut dough into quarters.
Take one piece of dough and roll out into large rectangle.  Cut into triangles.
Roll up in crescent shape and place rolls on baking sheet lined with parchment paper.
Repeat with remaining dough.
Let rolls rise for 10-15 minutes
Bake at 375 for 8-10 minutes or until rolls begin to turn golden brown on top.
Remove from oven and brush with butter and salt.
EAT, EAT, EAT!