Collection Quilt, section 4
School has started, which means I'm back at my stitching in the car while waiting for my kids.  I started on the Collection quilt several months ago, and shared the

first two sections here

.  For this quilt I'm working entirely from my stash, exploring color, but also loosely following the color scheme of the original Collection Quilt.  I have now finished sections three and four (there are a total of nine sections) so I'm close to half done with this project.  Section three is hard to photograph because it's long and skinny and fills in some gaps between other sections, but I did snap this photo of section four: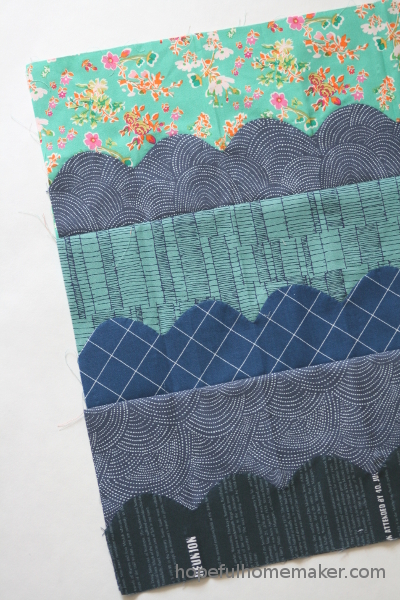 These fabrics and colors are some of my favorites.  Each one of them has sat patiently in my sewing room waiting for "the perfect project."  I don't know how "perfect" this project will be, but it is fun to use them and to see how fabrics designed at different times and by different people can work so beautifully together.
I feel a pull in my quilting.  The desire to cut and explore without plan or pattern is growing in me, but I also have a number of projects I've planned to make, purchased fabric for, and I feel loyal to making those quilts.  Using some treasured fabrics in this project is making me happy.  I have already made good progress on the next section and am excited to complete it.
This year has been a year of sewing through Carolyn Friedlander patterns.  So far I've finished the following quilt tops:

Aerial Grove Quilt top


Catenary Quilt top


Botanics Quilt top


Applique mini quilt


Facing East quilt blocks

(this was the start for a traveling quilt and I'm excited to make a full quilt in this)
It has been a fun journey to choose a designer and work through all the patterns I'm interested in making.  I have a few more on my list of quilts to make and look forward to beginning them soon!