This is the simplest, fastest, most delicious crockpot dinner that I know of.  Bless my Mom's heart for sharing it with me years ago.  My husband and children love it as it is always tender and filling.  I love it because it takes me about 3 minutes to assemble.  Then all I have to do is cook the rice later and dinner is done!
It contains 4 ingredients:  Beef stew meat, cream of mushroom soup, onion soup mix, and cooked rice.  Sound easy enough?
First, put at least 1 pound of stew meat into your crockpot.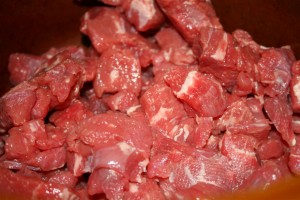 Then add a can of cream of mushroom soup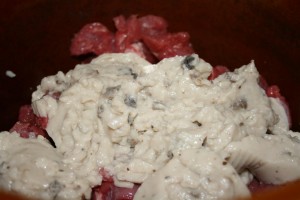 Mix well.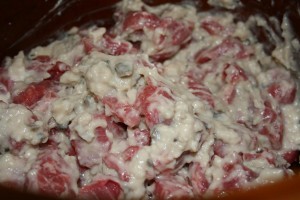 Pour 1 envelope of Lipton's onion soup mix over the top.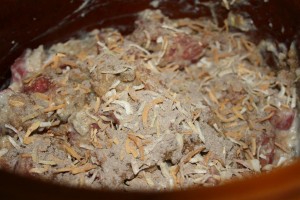 Cover and cook on low for 5-6 hours, or longer if you're cooking a lot of meat.
Cook some rice, and serve!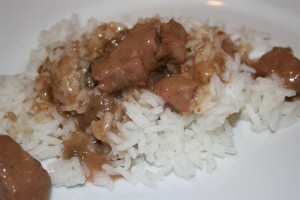 This isn't a fancy meal, but it is always tender and delicious.  I've served it many times for company, and they always love it.
Beef Tips and Rice
1 pound beef stew meat
1 can cream of mushroom soup
1 envelope onion soup mix
cooked rice
Note: for my family I usually cook about 2 1/2 pounds of meat and add 3 cans of soup.  But I still just use one envelope of soup mix.  Just one seems to do the trick just fine.