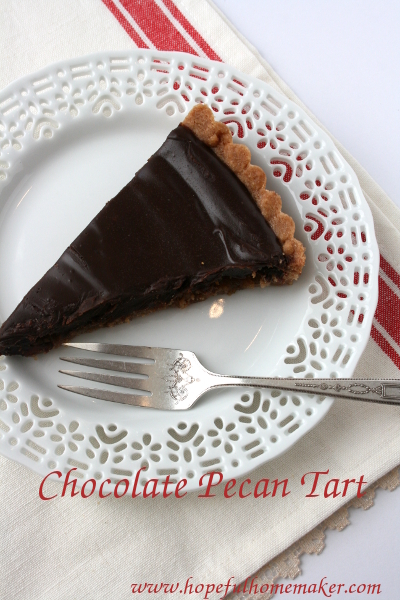 Years ago I tried a new recipe on a whim for Thanksgiving.  It has been requested every year since then, and this Chocolate Pecan Tart has become as much a part of our holiday traditions as pumpkin or apple pie.  Rich in flavor, it is an elegant addition to any holiday dessert as well as being an excellent combination of pecan and chocolate pies.  It's also a dessert offering that appeals to those who don't care for pie crust or traditional pies.  The tart has a chocolate crust, a thin layer of pecan pie filling and a top layer of chocolate ganache.

Chocolate Pecan Tart


Crust:

7 Tb. butter
1 cup flour
1/4 cup sugar
1/8 tsp. salt
2 Tb. heavy cream
2 heaping Tb. semi-sweet chocolate chips
In a food processor, cream the butter.  Beat in flour, sugar and salt.  Place chocolate chips in small bowl.  Heat cream and pour over chocolate; whisk to melt chocolate.  Add chocolate cream to dough and beat to combine.  Turn out onto lightly floured surface, then shape into a disk and refrigerate dough for 30 minutes.
Pat dough over the bottom and up sides of a

10-11 inch tart mold with a removable bottom such as this one.

Set aside.  Preheat oven to 325.

Pecan Filling:

1/2 cup light corn syrup
1 1/2 eggs (one egg plus one half of a beaten egg)
1/4 cup sugar
1/4 cup firmly packed brown sugar
1 Tb. melted butter
1/2 tsp. vanilla
1 1/4 cup pecans, chopped into bite size pieces
In a medium mixing bowl, whisk together corn syrup, eggs, butter, sugar vanilla and salt.  When combined, add pecan pieces and stir to coat.  Gently pour over uncooked tart shell.  Bake until a knife inserted into the pie filling comes out clean, about 25-35 minutes.  Remove from oven and cool completely.

Ganache:

1 cup plus 2 Tb. heavy whipping cream
12 ounces semi-sweet chocolate chips
In a small saucepan, heat cream to a simmer.  Place chocolate chips in small bowl.  Pour cream over chocolate and whisk to combine.  Pour ganache over cooled pie and let set.  Refrigerate until ready to serve.
Note:  I always make this tart a day in advance so it can be refrigerated overnight.  It is best served cold.  During the holidays I serve this Chocolate Pecan Tart along with these favorites:

Dutch Apple Pie


Coconut Cream Pie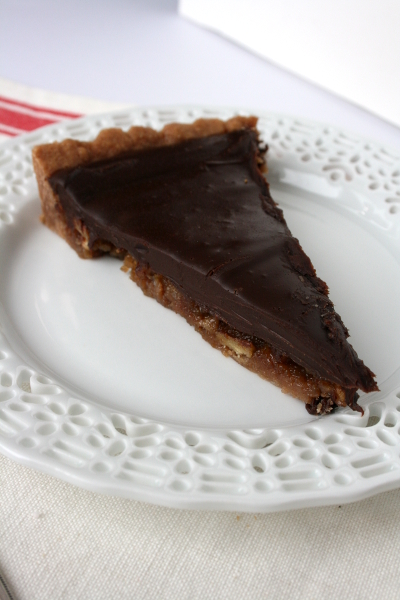 Click here

to see my list of tools I love and always use when making pies.  I hope you enjoy this tart as much as we do!  Happy baking!
Jennifer