For years I have admired English paper pieced (EPP) Lucy Boston quilts and quilt blocks.  I especially love the fussy cutting that usually accompanies them.  The symmetry, secondary patterns, and creativity in these blocks also appeal to me.  So, of course I bought papers!  And now I've finally made my first ever Lucy Boston 1″ block.  It's a start on what I'm sure will be a very long term project.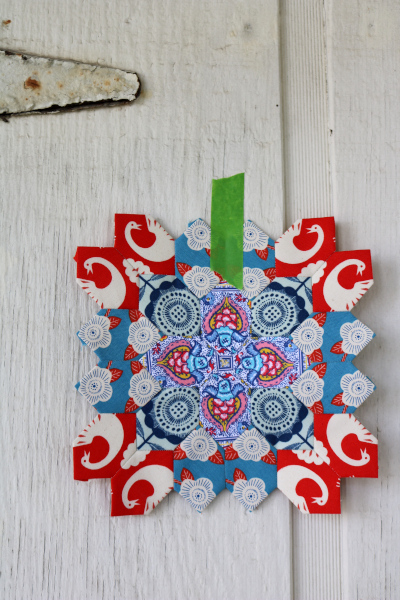 I first learned about these Lucy Boston quilt blocks from the ladies at

Alewives Fabrics

.  Their weekly kits caught my attention, and this block is one of them.  I bought all the fabrics and never made it.  When July 4th rolled around and I felt sad I'd had no time to sew, I remembered this block.  This block became my tiny holiday stitching project.
Last year

I started a larger size

with 2″ elongated hexagons, or honeycombs.  I love it, but still wanted to make the smaller size.  This block only measures 8.5″ square, so I'll need many more to make a quilt!  I purchased the paper pieces for both sizes at

Paper Pieces

.
Have you made a Lucy Boston quilt?  Do you English paper piece?  I didn't think I'd enjoy it so much.  For me, it's definitely been a stage in life thing – when my lap was always full of children I certainly didn't have a needle nearby.  But now, it's nice to have stitching I can carry everywhere I go.  I might enjoy applique a tiny bit more, but as my skills improve I enjoy EPP more.  Now, the real challenge is to find time to actually turn on my sewing machine!  This summer is busy!