We set up the video games in my living room during the holidays.  When we had a large group over for Christmas dinner, the teenagers had a room to hang out in and we still had the family room for the adults, so the set-up worked great.
It didn't work so well for my white slipcovers, however.  Food, markers, dirt,ketchup, crayon… you name it ended up on the couch, and I wondered if I was a complete fool to go with white.  I always thought it was the little children I had to deal with; now I'm learning that it's really the big ones who do the damage.  So after days of soaking and washing and soaking some more, my couch is white again.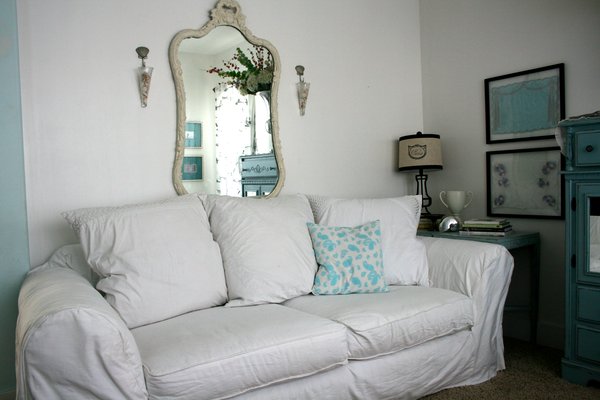 When I had got the main part of the slipcover white again, I carried it to my washing machine to wash it again.  To my dismay, when I opened the washer after the load, it was streaked with mud.  I took it out and found large streaks of mud inside the washer.  I have no idea how it got there, and so the process began again.  I'm very happy to have this clean!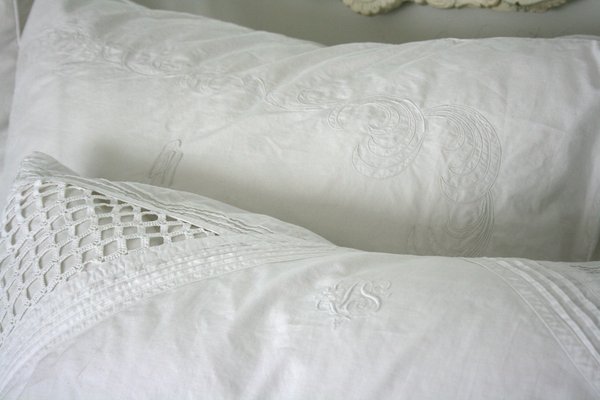 Some of my favorite vintage linens are used on this couch.  Years ago when I made the slipcover, I swapped out the two cushions and began using large down filled  pillows in their place.  It was amazing how much more comfortable the couch became with down to sink into as you lean back.  On each pillow I use a different vintage sham, and they have taking a bit of a beating as well.  Like the cotton duck that I used for the slipcover, I'm so glad that these cotton and linen shams cleaned up so nicely.   I love looking at the beautiful details in the stitching on these shams and they play well with the Marghab linens I have framed on the walls.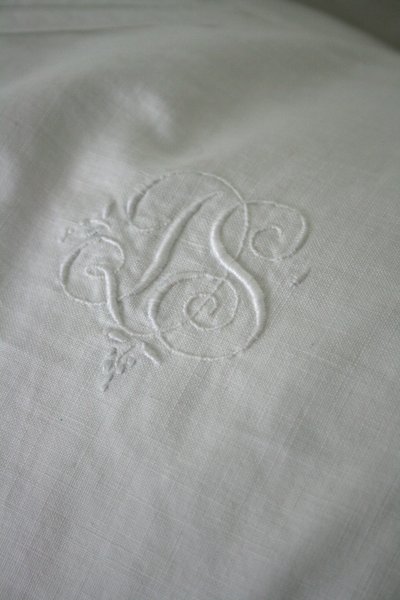 Vintage monograms are a huge weakness for me.  They're found in so many different styles and are executed so beautifully.  As someone who enjoys making things with her hands, I always marvel at these pieces of work.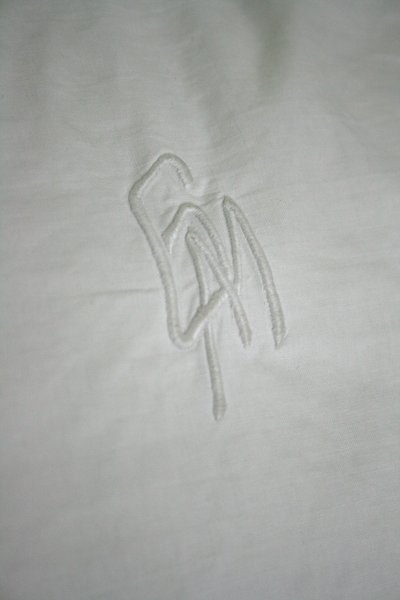 I used to want new furniture, and I'd still like it, I'm sure, but as we slowly become a house full of teenagers I find myself walking around saying to my furniture, "Don't you dare break!  You have to live through these kids because I'm not replacing you for a long time!"  It makes me laugh, but I'm quite serious.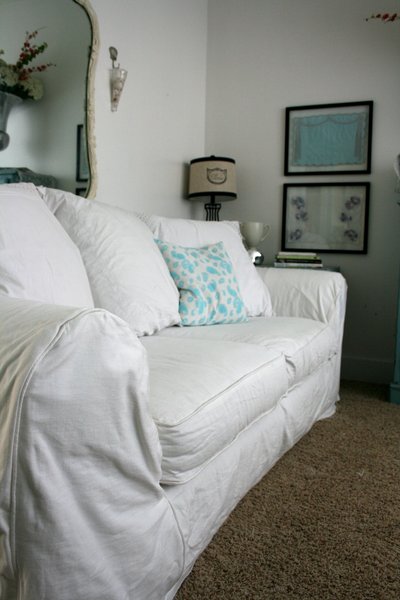 I'm relieved to have restored my couch to a respectable state, and happy that one of my favorite rooms in the house is now back to its usual self.    Today's first entry in my gratitude journal reads: "Today I'm grateful for Oxy Clean."  It's not the first time I've felt that way, and it certainly won't be the last!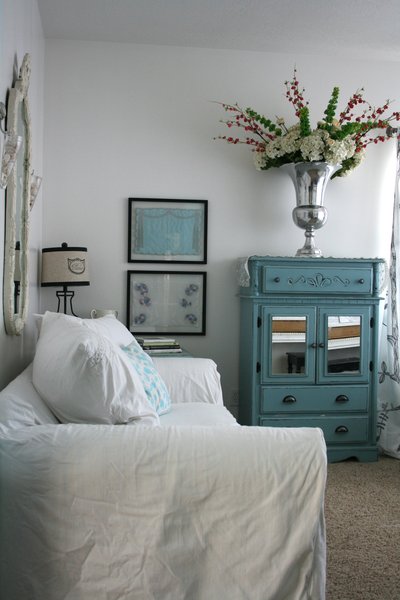 I'm off to rescue the pantry from it's current state of disarray.  Have a great weekend!
Jennifer