Lone Star Tree Skirt Sew Along
Welcome to the Hopeful Homemaker Lone Star Tree Skirt Sew Along!
The sew along will run for 5 weeks, beginning October 7, 2019.  Each week will feature a video providing detailed instructions and tips for making your tree skirt.  The videos will take you through each step in creating the lone star and turning it into a tree skirt.  To learn more about sewing a lone star block, and to see photos of my various lone star quilts, visit my Lone Star Tutorials page.
The Lone Star Christmas Tree Skirt Pattern is available in my Etsy Shop.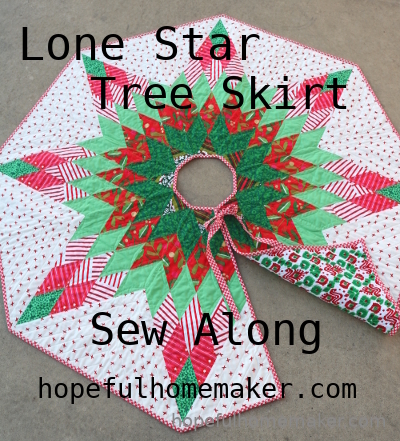 The Lone Star Tree Skirt Sew Along will follow this schedule:
Preparation, September 30:  Purchase the pattern and select fabrics
Week 1, October 7-13:  Cut & Sew Strips
Week 2, October 14-20:  Piece Diamonds
Week 3, October 21-27:  Piece Star & Add Background
Week 4, October 28- November 3:  Quilt Star
Week 5, November 4-10:  Cut Tree Skirt and Bind
Wrap-up, November 11: Share finished tree skirts
Purchase your pattern today to get started!