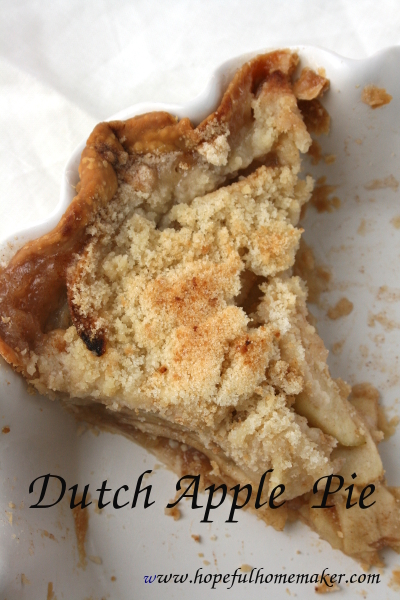 One of the best things I did a dozen or so years ago was take a pie-making class.  Not only did I walk away with some good recipes, but I also lost my fear of making pie and ditched the concept that a perfect looking pie equals a perfect tasting pie.  Best of all, I learned how to make this Dutch apple pie, and over the years I've made this pie more often than any other.  Some of my children request my Dutch apple pie instead of birthday cake.
The pictures I'm using in this post are representative of what happens when I make it.  I was lucky to get a quick shot of the last slice!
Dutch Apple Pie Recipe
Ingredients:
1 unbaked pie crust
6 medium Granny Smith apples
1 cup sugar
1-1/2 teaspoon cinnamon
3 Tablespoons Tapioca
1-1/2 teaspoon fresh lemon juice
for Dutch crumb topping:
5-2/3 Tablespoons cold butter
1/2 cup sugar
3/4 cup flour
Prepare the filling:
Fill a large bowl with a few ice cubes and 2-3 inches of cold water.  Add 1 teaspoon of salt to cold water.  This salted ice water will keep your apple slices fresh.  Peel and slice apples, placing apple slices into water.
Roll out pie crust into pie dish.  Note:  my favorite pie dishes are Emile Henry ceramics.  They are made in France, and are high quality and beautiful.  My pies always bake perfectly in these dishes!  They also make great gifts.
Drain water from bowl.  Add 1 cup sugar, cinnamon, Tapioca and lemon juice.  Mix together gently to avoid breaking apple slices.
Arrange applies in pie shell.
To prepare the Dutch crumb topping:
In mixing bowl, combine flour and 1/2 cup sugar.  Cut cold butter into slices and add to flour mixture.  Combine with pastry cutter or using a hand mixer.  Spoon topping over apples, spreading over entire top of pie to the edges of the pie crust.
Bake:
Line baking sheet with parchment paper and place in oven on rack BELOW the rack your pie will bake on.  This will catch any drips as the fruit cooks.
Bake pie at 425 for 15 minutes.  Turn oven temperature down to 350, cover lightly with foil and bake an additional 45-50 minutes.
Remove pie from oven and allow to sit at least 20 minutes before slicing.  Serve warm or cold with vanilla ice cream or whipped cream.
Enjoy!
During the holidays I serve this pie along with these other favorites:
Chocolate Pecan Tart
Coconut Cream Pie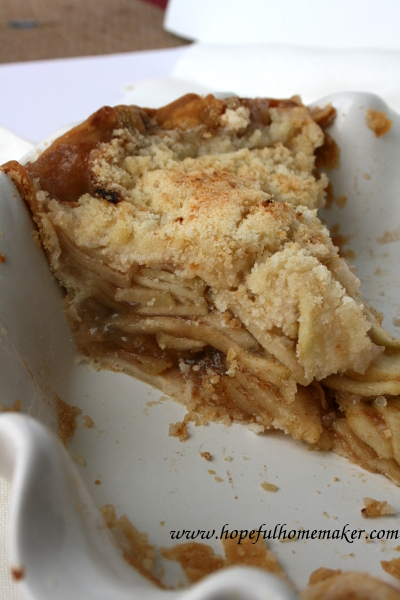 Check out my favorite tools for pie making here.
Happy baking!
Jennifer